An overview of the Recovered Living NZ programme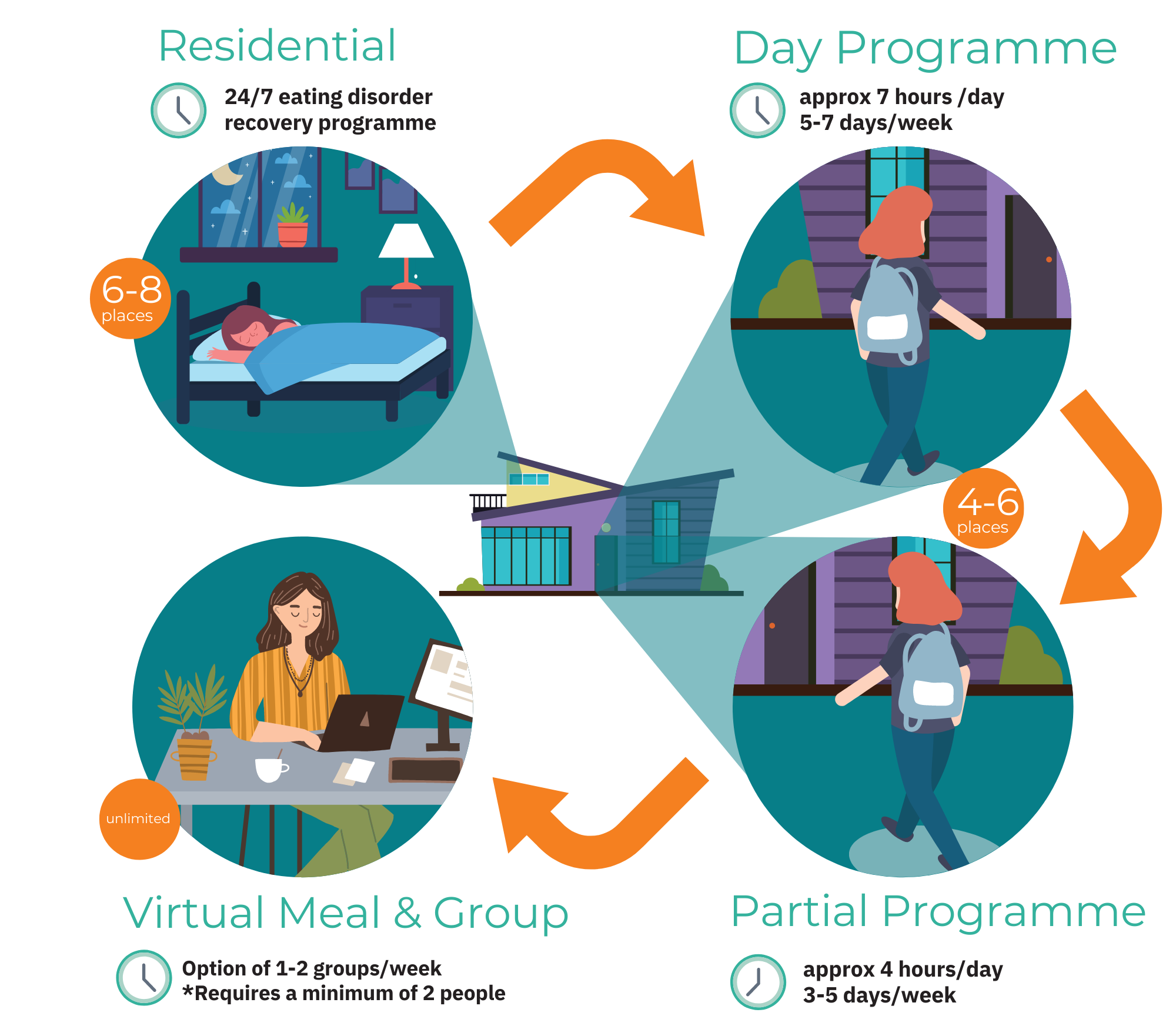 Our Treatment Approach
We believe in everybody's capacity to be fully recovered from an eating disorder.  Our multidisciplinary team includes a GP, Psychiatrist, Registered Dietitian, Nurses and Counsellors.  As core therapeutic components we offer Enhanced Cognitive Behavioural Therapy, Dialectical Behaviour Therapy, Exposure Response Prevention, Family Therapy, Relational Cultural Therapy and Acceptance and Commitment Therapy. 
Residential
Our residential programme runs out of our beautiful rammed earth home situated 35 minutes north of Christchurch, in the North Canterbury region of New Zealand.  We are open 365 days of the year with space for up to 10 clients at a time.
We have four levels of our Residential programme, assessment, intention, change and integration.  We pride ourselves on not having a 'cookie cutter approach' to recovery, you work through the levels at your own pace.
Sleeping
Unless other arrangements have been made, you will room with one other person of the same physical gender as you.  We understand that sharing a room may not be your first preference, or something you are used to.  What we often find is that 'roomies' form fast bonds and many say having a roommate was a fundamental part of their recovery journey.
Programme hours
A typical day in residential starts at 7:30am and finishes at 10:00pm seven days a week.  In this time there will be space for showering and preparing for the day, group therapy, meals and snacks, participation in our movement activities as well as allocated time for recovery assignments, individual therapy, sessions with our dietitian, visiting with friends or family and free time.
Weekends have additional free time built into the programme to allow for visitors who are traveling long distances.
As you progress in recovery there will be opportunity for individual or family passes, additional recovery challenges, and time for grocery shopping and preparing your own meals and snacks.
Meals
Meals and snacks are eaten family style, at our handmade rimu table in the dining room, or on the deck outside.
Your meals are beautifully prepared by our cook in the kitchen, with some ingredients coming from the garden on site.  We have rotating monthly and seasonal menus with a variety of snack options.
As you move up the levels you will begin to plan, prepare and cook your own meals and snacks, including off menu items you may choose to add, in consultation with our dietitian.
We do not tube feed at RLNZ.  We require all clients coming to our programme to be able to eat solid food or supplement via liquid nutrition (such as Ensure).
Outings
While the majority of our programme is run out of the Recovered Living NZ home, we have several outings that happen routinely.  Each week we eat lunch at a local café or restaurant to normalise eating out, trying new foods and to experience life 'in the real world' whilst in recovery.  Once a month we 'order in' from a local restaurant and go out for brunch.  We also do beach or nature walks, schedule a trip into town for personal necessities like toiletries or posting mail, and each Sunday the clients choose a 'Sunday outing' such as mini golf, the beach, or a community service activity such as seedling planting.
Staff
Our staff are affectionately nicknamed our 'family'.  Anything we ask you to do, we are willing to do ourselves.  Staff eat with clients, go on outings, and are actively in the house as you go about your day.  We use recovered staff where possible so that you have access to people who have walked the path before you and are living proof that being fully recovered is a reality.
Movement
We purposely use the word movement in place of 'exercise' as it can have negative connotations for someone with an eating disorder.  Our programme has a range of activities to help you reconnect with movement you enjoy such as yoga, mindful beach or bush walks, or outdoor games like frisbee.  When you first start out in our programme, we will ask you to take a pause from active movement as part of separating from the eating disorder.  As you work through the levels we will re-introduce movement and have you process the experience with your therapist, and in group.  We have a dedicated therapy groups each week devoted to exploring your routines, values and past experiences with both exercise and movement.
Length of Stay
In our Residential programme we have 4 levels of care.  People typically take 2-4 months to complete the Residential programme (2-4 weeks per level on average) however you may move slower or faster depending on your individual situation.  In order to move to our Day Programme, we do require that you have completed Level 4 in our Residential programme first.  If you are wanting to return to home after Residential, the closer to level 4 you are when you discharge, the smoother transition you will have back into regular life.  Please know that discharging on a lower level does not mean you cannot recover, there may just be some bigger adjustments as you transition.
What happens after Residential, is that we recommend you step down to our Day Programme (7 hours a day) and then Partial Programme (4 hours a day) until you graduate.  Typically, the amount of time you spend in Residential will roughly be the amount of time you spend in the rest of the programme.  For example, if you spend 8 weeks in Residential, we would loosely plan for you to spend a further 8 weeks in Day and Partial combined - a total of 16 weeks in the entire Recovered Living NZ programme.  
Progress is individual, recovery does not happen on a schedule and so your stay may be longer or shorter than what we envision.  Allowing yourself the time you need takes the pressure off you and sets you up for the best success possible.  We understand that finances may be a consideration and so we have a minimum stay of 4 weeks in our Residential programme in order to ensure you can gain traction in recovery.
---
Day Programme
Our Day Programme has space for 6 clients and runs a maximum of 7 days a week, dropping down to 5 days a week as you progress in recovery.  Purposefully designed to help you maintain the new routines and recovery behaviours you have learned in Residential, Day Programme assists clients in re-integrating into life in manageable chunks.  
While in Day Programme you will be grocery shopping, preparing meals, eating both at the RLNZ home and at restaurants or cafe's, attending individual therapy, seeing the dietitian, and participating in regular group therapy as well as higher level groups for Day Programme clients.  There will also be individualised challenges and goals, specific to your needs.  The time outside of Day Programme is your own to spend as you wish.  Day Programme is preparing you for Partial Programme, which is the final step before you transition home.
---
Partial Programme
This is an exciting time in your recovery where you will attend program just 4 hours a day, starting at 5 days per week and eventually stepping down to 3 days per week as you progress in recovery.  Partial Programme is all about assisting clients to transition fully into life while retaining recovery routines.  While you are in Partial Programme it is expected you will be either parenting, working, studying or volunteering in order to begin to create a new life in recovery. 
During this phase, the bulk of your recovery will be done away from programme, while you road test recovery routines in your life.  Programme will be about processing the wins, challenges and questions you have about recovery as well as reconnecting you with familiar and safe routines.  While in Partial programming you will be a role model for the people in Residential or Day programme and it is expected you are committed to your recovery.  If you struggle at this level of treatment, you may be asked to return to Day Programme to consolidate your recovery and do a reset, before you try again.
---
Reconnect: Virtual Group and Meal Support
Whether you stay in the area or choose to return home, once you complete the Recovered Living Programme you are able to apply to attend Reconnect, our Virtual Zoom Group and Meal option for people in strong recovery.  In order to attend these groups, it is expected you are staying in recovery, reaching out for support when you need it, and moving forwards as you gain confidence in your new routines.
---